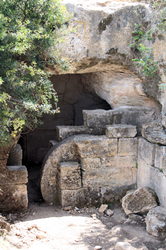 "It is one thing to see a beautiful sight, it's quite another to see it and say, 'we are here because this is where Christ cast out the demons,…' That's when we realize that the Bible does come to life in Israel."

FAIRFIELD,Ohio (PRWEB)
February 25, 2019
The Bible Comes to Life Travel and Education Center is gearing up for their first Life of Christ Tour that is geared to the physically fit traveler. In fact, fitness is a must for this trip.
"There are a lot of places in Israel where most tourist visit. They are wonderful and amazing places," said Patricia Stirnkorb, TBCTL Travel Liaison. "But there are an equal number of places that aren't as accessible for the normal traveler. These are the hidden treasures along the way."
In fact, the Gospel Trail is a 37-mile path that goes from the Galilee region, where Christ's ministry began, to Jerusalem. This is the supposed trail that Christ would have walked on His journey. While they won't be walking the entire trail, they will be on portions of it, averaging a couple of hours of walking each day, some over rough terrain.
"It is definitely not for someone who has mobility issues," said Jackie Lee, Stirnkorb's business partner. "Getting in shape for it now will benefit them for the trip." Both will be leading the group along with their husbands, and it will be guided by Omer Eshel, former US Consul from Israel, and the CEO of TBCTL. Just having Omer as their guide is a huge advantage. As a Jewish citizen, born and raised in Israel, he knows the history and geography of the region better than most. As well as the "hidden treasures" that he will share.
One of the reasons they wanted to do this trip is because so many of their travelers want to see and experience the sights, sounds, smells and the geography where Christ's ministry actually happened. "It is one thing to see a beautiful sight, it's quite another to see it and say, 'we are here because this is where Christ cast out the demons, or turned over the tables of the money changers.' That's when we realize that the Bible does come to life in Israel."
The Bible Comes to Life (International) and TBCTL-USA, are partners with the Tlalim Group, one of the oldest and most experienced travel agencies in Israel.
For more information about this trip, visit their USA website.
Jackie Lee

jackie (at) tbctl-usa (dot) com    

TBCTL Travel Liaison
Share article on social media or email: