These deals offer some of the best discounts on trips to hotspots such as the Caribbean or Europe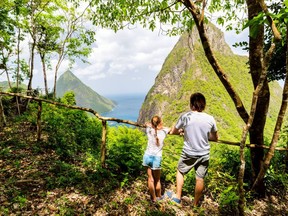 Article content
For those hoping to get away for the winter, the ideal time to book for the best deal is three to four months before your trip.. That window is slowly closing for winter getaways, but Black Friday presents a good opportunity to find some deals for your trip to a warmer locale or a ski getaway.
Article content
Here is a list of some of the best packages you can indulge in for this holiday season.
Article content
Don't miss:
Life is expensive. Skip saving and go straight to earning cash when you buy gas, dinner, gifts and more. Get the free app app
You could save hundreds — or possibly thousands — in interest by improving your credit score. Check it for free today
Is your family protected financially? These are 5 simple mistakes Canadian parents make when it comes to life insurance
Save on sun, ski, U.S. and European destinations
If you have your eye on a beach vacation this winter, check out Air Canada Vacations' pre-Black Friday sale. It has already started and runs until Nov. 24. You can expect to save up to 40 per cent off select packages to destinations such as Mexico, the Caribbean, and Central America. There are also packages for U.S. destinations such as Hawaii and Florida, or packages for Europe. Travel dates for these deals are from Feb. 1 to April 30, 3023.
Article content
If you embrace Canadian winters, many of Canada's best ski resorts are offering discounts. For those looking to hit the slopes, you can save $250 per couple on select ski vacations. Ski and stay dates are available between Nov. 23, 2022 and April 15, 2023.
Save on an escape to the Caribbean
There's deals to be found with Caribbean resorts as well. Curaçao's Marriott Beach Resort is offering 35 per cent off all room types when booking between Nov. 25 and 28, 2022, for a travel window of Jan. 8 to Aug. 17, 2023.
If you book seven nights, you'll pay for just five at The Landings Resort and Spa in St. Lucia. In addition, you get breakfast for free and a $100 spa credit. You'll need to travel (for a minimum seven nights) between Nov. 24, 2022, and Dec. 16, 2023. This offer is available from Nov. 24 to 30, 2022.
Article content
Looking for a quick getaway? Try the Alaia Belize, which is giving the fourth night free when you pay for three. The hotel is located on the island of Ambergris Caye, and is close to the Belize Barrier Reef Reserve System.
For a five-night stay, you can get two additional nights for free. This deal is good for most of next year (Jan. 2 to Dec. 15, 2023). But you'll need to book between Nov. 25 and 28, 2022.
If you've been dreaming of snorkelling off Turks and Caicos, both the Blue Haven Resort and Alexandra Resort are offering 20 per cent off on stays between May 1 and Dec. 20, 2023. The deal is valid from midnight on Nov. 24 to midnight on Nov. 28, 2022.
Vancouver hotel is offering 2002 pricing
If inflation is taking a bite out of your travel budget, this hotel's deal might make a big difference. Vancouver's first luxury boutique hotel, The Opus, is celebrating its 20th anniversary with 2002 pricing of just $200 per night. The deal is on until Dec. 30, 2022, while supplies last. You'll need to book directly with the promo code "TBT2002."
Article content
The Opus is close to a metro station and its "hotel car" can be used for complimentary drop-offs anywhere in the downtown core.
If you missed the throwback deal, the hotel is also offering 20 per cent off and free breakfast when you book two nights or more on stays until June 30, 2023. You'll need to book before Nov. 29.
Northern California road trip deals
The Kimpton Alton Hotel is close to iconic attractions such as The Golden Gate Bridge, and is currently offering a promotion where you get a third night free when you book two.
Travel dates are available from now to Jan. 31, 2023. San Jose's largest and newest hotel, Signia by Hilton, is celebrating Black Friday with a package that includes a US$75 food and beverage credit. You have to make a reservation by Dec. 31, 2022, but travel dates are available throughout 2023.
Article content
If you like wilderness, camping, waterfalls (or all of the above) you may want to check out Yosemite Park.
The Heritage Inn Yosemite Sonora has 20 per cent off stays when using discount code "MOOSEISLOOSE." Travel dates are from Nov. 25, 2022 to May 2023. There's also the Serenity in Pines that has 10 per cent off weekday stays (excluding holidays) until Jan. 31, 2023 when using promo code "Winter22."
Save on a second guest for your cruise
Celebrity Cruises — which offers trips to Europe, the Caribbean and Alaska — has already started its Black Friday sale, where the second guest gets up to 75 per cent off when booking (with a non-refundable deposit).
This deal ends on Dec. 1, 2022, and is available on all sailings (except to the Galapagos) from Dec. 2, 2022 to April 2025.
Article content
Big discounts on Florida Keys resort
Hawks Cay Resort offers guests 35 per cent off accommodations when booking between Nov. 21 to 29, 2022, with promo code "CYBERW." The drive to Key West nightlife, or locations such as Miami, is over an hour. If you are looking to laze by a pool and recharge, this might be the trip for you.
A two-night stay is required for the Hawks Cay Resort, or three nights for a villa. There's also a Canadian promotion where you can save 25 per cent off accommodations with promo code "LOONIE." Both deals have travel dates available in 2023.
The Opal Key Resort & Marina in Key West is just one of 22 participating Opal Collection properties where you can save up to 50 per cent on select dates through 2023. The sale starts at midnight on Nov. 28, 2022, and lasts 72 hours.
Article content
Sunny southern California sale
The Surf & Sand Resort in Laguna Beach and Rancho Bernardo Inn in San Diego are offering their annual 50/50 Cyber Sale. You'll get 50 per cent off the best available rate and a $50 dining credit. The deal must be booked by Dec. 5, for travel by March 31, 2023. Use promo code "CS1121."
Sur & Sand's emphasis is on its seaside location, with each room offering a view of the ocean.
Rancho Bernardo Inn is better for those wanting a country club feel. It has its own golf course and 265 acres of land.
The Waldorf Astoria Monarch Beach is also offering up to 40 per cent off stays of two nights or more. The travel window is valid until May 25, 2023, but you must book by Nov. 30.
What to read next:
Article content
Multiple Miami hotel deals
When booking between Nov. 24 and 27, 2022, you can get up to 40 per cent off the best available rate at the Arlo Wynwood. Use promo code "CYBER," and travel by Dec. 31, 2023.
The Balfour Hotel offers 25 per cent off, and a $50 food and beverage credit when booking between Nov. 22 and Dec. 1, 2022. You have to book for a minimum of four nights for travel by Sept. 30, 2023.
Located downtown, the InterContinental Hotel is giving guests the third night free when they book two nights. You must book between Nov. 25 to 28, 2022, with travel completed by March 31, 2023.
This article provides information only and should not be construed as advice. It is provided without warranty of any kind.