Several recent pictures that emerged from Dwyane Wade's vacation trip have prompted reactions from former USA teammates LeBron James and Carmelo Anthony. It was all love shown on their end. In recent times, Dwyane Wade and his wife Gabrielle Union enjoyed a special trip to Africa together to celebrate Union's 50th birthday. 
ADVERTISEMENT
Article continues below this ad
As they traveled through various places on the trip, they were accompanied by their daughter, Kaavia James. The pictures Wade and Union posted were great glimpses for fans to witness their vacation and the special moments they shared together.
ADVERTISEMENT
Article continues below this ad
Clearly, fans can see Wade chatting with some local people there in a photo. He posted the pictures on Instagram with the caption: "Neither of us were camera shy". In addition, these pictures were described as pretty awesome by his former teammates. Carmelo Anthony said: "These pics are EPIC".
As for LeBron James, he complimented the pictures with the following comment: "So (adding fire emojis) brother". Back in the day, Wade, James, and Anthony were one of the most influential basketball trios. In their history, all three stars were selected in the 2003 NBA draft.
Anthony was selected as the third overall pick by the Denver Nuggets. Wade was the fifth overall pick by the Miami Heat, while James was the number one overall pick by the Cavs. Whether playing alongside or against each other, they have demonstrated great performances many times throughout their illustrious NBA careers.
An iconic duo, LeBron James and Dwyane Wade
ADVERTISEMENT
Article continues below this ad
Back when Dwyane Wade was playing in the NBA, this trio was widely known. In addition, if we add Chris Paul to the group, they were referred to as 'The Banana Boat Crew'. Their vacation trip during the off-season has always been a favorite moment for NBA fans.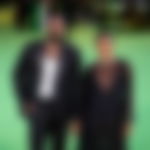 LeBron James is now playing for the Los Angeles Lakers. Yet, Wade and James played together back then while playing for teams such as the Miami Heat and the Cleveland Cavaliers. Particularly when they were teammates in Miami, they won two NBA championships together.
ADVERTISEMENT
Article continues below this ad
WATCH THIS STORY: Kevin Durant, Dwyane Wade and Other Celebrities Left in Awe as LeBron James' Sons Show They are Ready to Carry Forward His Legacy 
What did you think of Dwyane Wade's vacation photos? Let us know in the comments below.