Israel's Minister for Culture and Sports Miri Regev issued a message of hope and peace during an unlikely visit to a mosque in the United Arab Emirates (UAE) on Saturday, as relations between the two countries appeared to warm.
"It is the first time that an Israeli minister has made an [official] visit," Regev said about her trip to the Sheikh Zayed Grand Mosque, the world's third largest mosque after Mecca and Medina, "the whole message here is of unity and peace."
Dressed head-to-toe in traditional Arab garb, Regev toured the religious site accompanied by the mosque's proprietor and organizer of the ongoing judo competition held in Abu Dhabi this week. "The details are amazing here," she said, in awe of the buildings beauty before signing her name in the guestbook in Hebrew.
"When you speak to the Iman, he speaks about peace, about a good life and does not inject his personal agenda," she said during video footage of the visit that was circulated widely across social media. "I wish in every place in the world they would understand that religion is religion and we need to differentiate from agendas."
Thanking the two men she expressed her gratitude for the "incredible opportunity" and "honor" to be welcomed into mosque.
The UAE and Israel do not have public relations however reports have hinted at longstanding clandestine ties based on a convergence of a multitude of interests – chief among them stemming from their mutual foe Iran's expanding regional influence.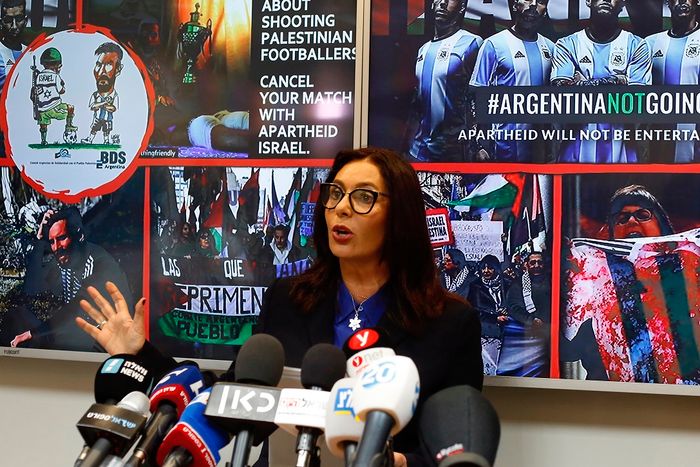 As relations appeared to thaw, the UAE allowed Israeli athletes to openly compete in the 2018 Grand Slam Judo Tournament this week. Claiming a gold medal win, top judoka Sagi Muki stood next to Regev during the medal ceremony where Israel's national anthem the "Hatikva" played for the first time.
"Today has made double history for us as we have won gold here in Abu Dhabi and our anthem has played and we have signed a contract to stage our first ever IJF Grand Prix in Israel," Regev said, after Israel secured the rights to host its first ever internal judo tournament in 2019.
"Everyone is invited to our Grand Prix including all Arabic countries and I hope you will all see that our country is a peaceful and loving nation with good food and good people," the minister added.
During last year's competition also held in Abu Dhabi, discriminatory policies were directed at Israeli participants forbidding them to brandish their national symbols or play the national anthem had one of its athletes won gold. This year's marked a sea change in relations.
"I hope the unity between the two cultures, Muslim and Israeli culture is a start for a new era in the sport and later in the world, social, political, economical areas," the IFJ President Maris Vizer said about the sporting event.
On the same day as the judo victory, an Israeli gymnastics delegation arrived in Qatar for the beginning of the world championships being held in Doha. And on Monday, Israel's Communications Minister Ayoob Kara was to travel to Dubai to represent Israel at an international internet security conference, his office said.
Israel's Prime Minister Benjamin Netanyahu frequently refers to ongoing work behind the scenes to warm ties between Israel and its Arab neighbours.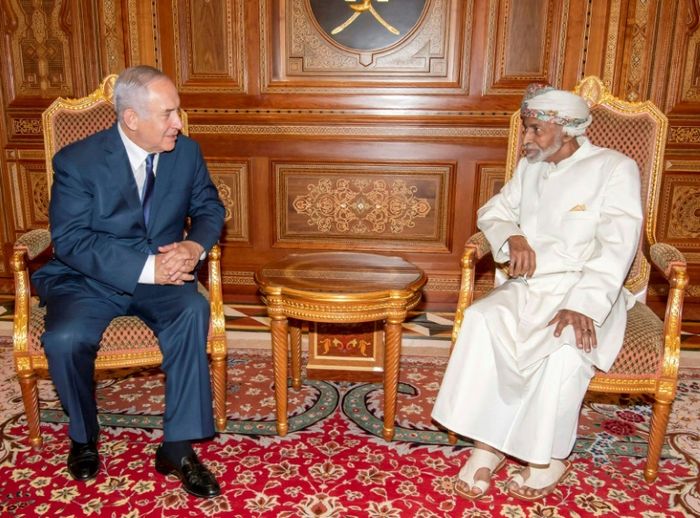 Last week, Netanyahu arrived in Oman for a rare visit with the Gulf state's leader, Sultan Qaboos bin Said. The two leaders, whose countries do not possess diplomatic ties, discussed ways to advance the peace process and areas of regional mutual interest.
"Quite a few of the neighboring countries that are reaching out to Israel and normalizing relations…because of innovation," the prime minister said, "they see Israel as a hub of innovation that can offer a better, safer, richer and longer life for their peoples."
In July of this year, i24NEWS learned that the Israeli air-force hosted a military delegation from the UAE to review operations of the advanced US-made F-35 fighter jets.
Netanyahu has repeatedly said that Sunni states have been making overtures to Israel, spurred by the perceived mutual threat of Iran, the Middle East's predominant Shiite power, which both accuse of fueling regional conflicts by supporting armed proxies in Syria, Iraq, Yemen and Bahrain
Both Saudi Arabia and Israel consider Iran the biggest threat to regional stability, comparing the Islamic Republic leadership to that of Nazi Germany.
Israel, along with Saudi Arabia, Egypt, Bahrain and UAE were all in favor of US President Donald Trump's decision in May to scrap the Iran nuclear accord.