World No.10 David Goffin is unsure whether he would travel to the USA in August to participate in the US Open. He is concerned about health safety, following a surge of novel coronavirus cases in New York over the last few months.
ALSO READ: Fabio Fognini More Inclined Towards European Clay Season Than US Open Says Coach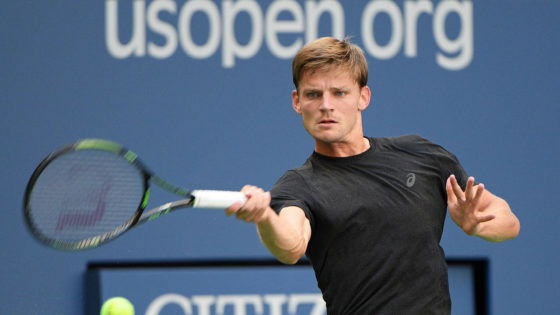 David Goffin is concerned about the US Open
In an interview with Sky Sports, the 29-year old said, "I would love to go and fit it into my schedule, but I don't know if we will go at the moment. The cases over there are increasing so I don't know if it's good to go but we will try. We will practice on hard courts in preparation for the Cincinnati Masters and US Open."
Goffin sounded optimistic that the conditions would change for good. He said, "At the end of the day I don't know because it's not been good but of course the conditions can change. The conditions are really tough with a player plus one or maybe plus two maximum. I'm still hesitating. I'm not 100 percent sure that I will go."
He continued, "The virus is in the tennis world. We don't know what will happen if there are cases during the tournament. Will it be canceled?"
Previously, Serena Williams' coach Patrick Mouratoglou too said that the US Opens plans to host the tournament is unprecedented, considering the recent spike in COVID-19 cases in America. It seems that Goffin too shares his opinion.
Goffin has so far won four ATP titles. Also, he is the first Belgian male tennis player to reach the top 10 rankings.
ALSO READ: David Goffin Opens up on Novak Djokovic's Adria Tour Fallout
Rising tension in America
The United States of America has so far seen the highest number of COVID-19 positive cases in the world. While their total cases stand at near 300,000, over 136,800 people have already lost their lives due to the deadly virus. New York, being the epicenter of COVID-19 in the USA, has been a factor of worry for athletes.
The US Open has decided to carry on its operations, despite the country's rising coronavirus cases. The United States' government has canceled all large public gatherings but has given a green signal to sports organizers to host sports events behind closed doors. In a recent interview, the New York City Mayor Bill de Blasio said that the US Open is the country's tradition and they will continue pursuing it.