Surakarta in Central Java has long been known as a city of culture, thanks to the rich diversity of arts and tradition well preserved by the community, especially performing arts.
Traditional art performances are among the popular attractions of the city, and you can find them almost every day at different venues.
The following is a list of five prominent venues presenting various art performances in Surakarta.
Mangkunegara Palace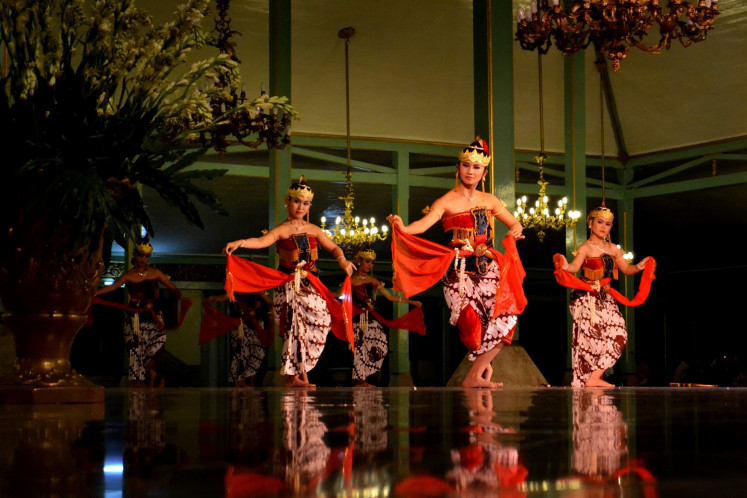 Traditional Javanese dances are frequently presented at the Mangkunegara Palace in Surakarta. (JP/Stefanus Ajie)
Built in 1757 by Raden Mas Said, the Mangkunegara Palace has since transformed into a cultural and art space in downtown Surakarta.
Located on Jl. Ranggawarsito, Keprabon, the venue often features large-scale national or international performances, such as colossal dance drama Matah Ati and Solo International Performing Art.
Every Saturday on the Javanese calendar, there is a dance performance at 8 p.m. at the Palace's Dalem Prangwedanan. The Karawitan music performance is held every Saturday at 10 a.m. and a traditional Javanese dance performance is on every Wednesday at 10 a.m.
The Palace's front part or Ngarsopura area is often used as a venue for art performances and other cultural events, including a night market every weekend, during which street performing arts like Sitheran (Javanese harp) and Jathilan (trance dance) are frequently presented.
Balekambang Park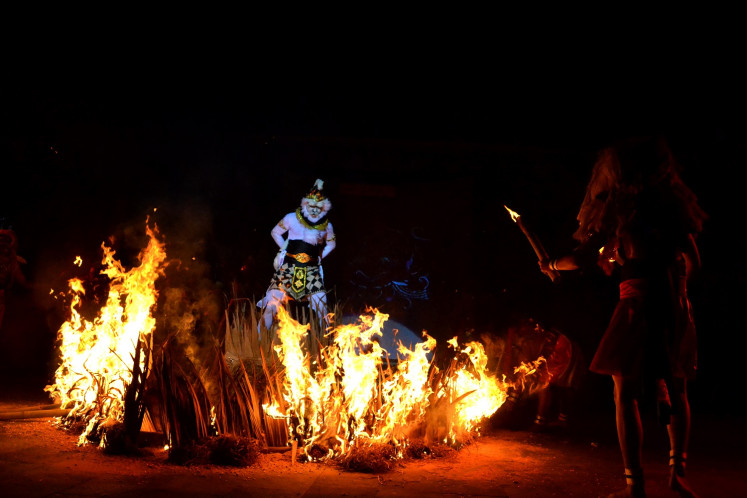 The story of 'Ramayana' is staged at full moon at Balekambang Park in Surakarta. (JP/Stefanus Ajie)
Balekambang Park initially belonged to the Mangkunegara royal family. It was built in 1921 by Kanjeng Gusti Pangeran Adipati Arya (KGPAA) Mangkunegara VII for his daughters, Gusti Raden Ayu (GRAy) Partini and GRAy Partinah. 
Located on Jl. Balekambang 1, Manahan, and covering an area of 9.8 hectares, the park is home to deer and monkeys.
The park has two venues for art performances: The Balekambang Art Building presents Javanese traditional drama ketoprak performances every Saturday night, while the Amphitheater holds the Ramayana dance drama every full moon.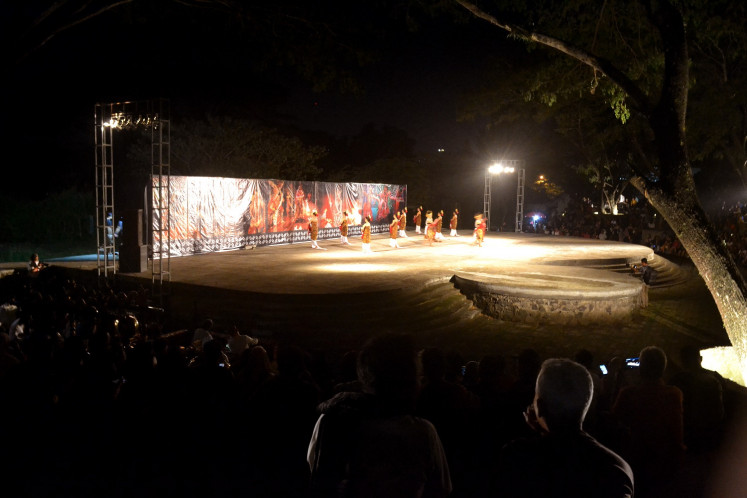 Amphitheater is one of several cultural venues at Balekambang Park, Surakarta. (JP/Stefanus Ajie)
Wayang Orang Sriwedari Building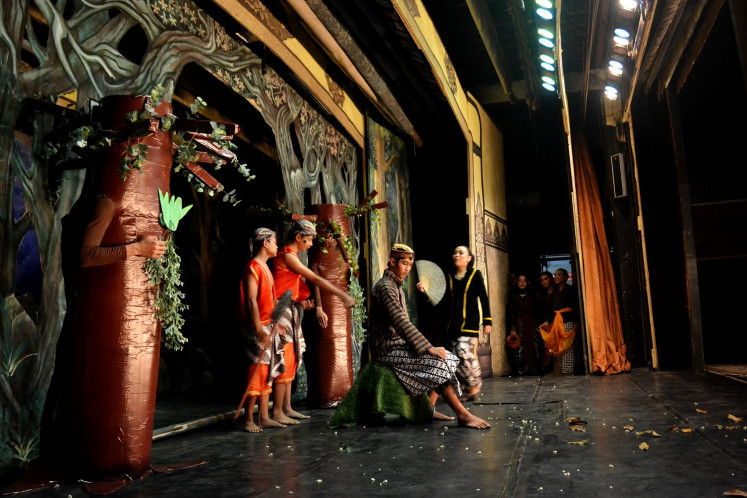 Students of SMP 4 state junior high school of Surakarta act in a human puppet performance at the Sriwedari building. (JP/Stefanus Ajie)
The building is located in Kebon Rojo Sriwedari, a park belonging to the Surakarta Kasunanan Palace situated on Jl. Slamet Riyadi, Laweyan. It was built by Pakubuwana X.
The first wayang orang (human puppet) show was held at the building on July 10, 1910.
Now, performances are held every day, and they present stories from Mahabarata and Ramayana, accompanied by live gamelan music and hand-painted stage backdrops. Each performance starts at 8 p.m. with entrance tickets costing Rp 5,000 per person per show.
During the performance, a projector screen displays the synopsis of the story for those who do not speak Javanese.
Central Java Cultural Park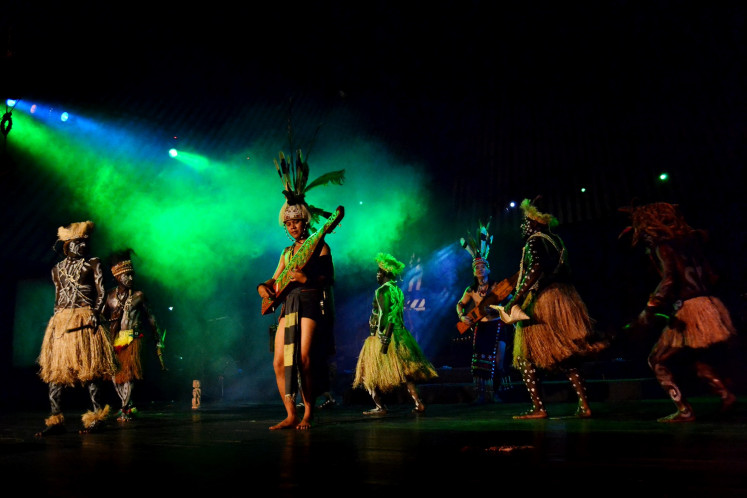 Papuan music fuses with Kalimantan music in a performance at the Central Java Cultural Park. (JP/Stefanus Ajie)
Central Java Cultural Park (TBJT) on Jl. Ir Sutami, Kenthingan, has several venues: Pendapa Ageng as the main venue, Teater Arena and Fine Art Gallery.
The venue consistently features events involving local and international artists.
Routine performances include the Lesehan Keroncong Asli at Pendhapa Ageng on the third Tuesday of an even month and a wayang kulit (shadow puppet) show on the eve of every kliwon Friday, held concurrently with a night market selling various crafts related to puppetry.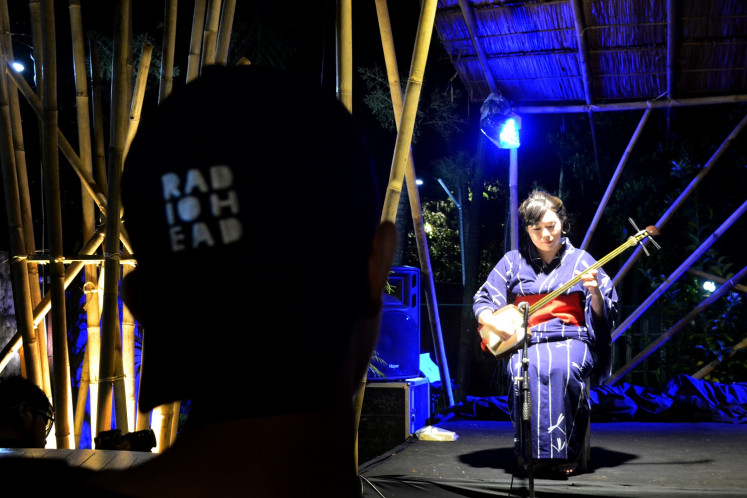 Traditional Japanese 'shamisen' music is presented at Banjarsari House, Surakarta. (JP/Stefanus Ajie)
Rumah Banjarsari (Banjarsari House) was established in 2017 by the Surakarta artist community.
It belongs to the Mangkunegaran family and is located on Jl. Syamsurizal, Banjasari. It now functions as a community room, art gallery, performance venue, discussion room, rehearsal space and serves culinary events.
The performances there range from traditional Indonesian to contemporary foreign ones.
When no performance is scheduled, visitors are welcome to enjoy the ambience of the house, influenced by the Dutch East Indies style, while sipping coffee or traditional beverages of Surakarta. (yun/wng)