Pictured above (from left): Aaron Turner and Billy FoertschWatch a video interview with Turner on the official USBC Open Championships page.
RENO, Nev. – Even on St. Patrick's Day, luck will only get you so far at the United States Bowling Congress Open Championships.
While competitors certainly will take a hit or two along the way, things like shot execution, communication and a solid game plan are necessary to move up the leaderboard.
The talented duo of Aaron Turner of Stoughton, Wisconsin, and Billy Foertsch of Madison, Wisconsin, showcased all of those traits heading into the final hours of the holiday Friday night at the 2023 event to take over the top spot in Regular Doubles with a total pinfall of 1,350.
If the day wasn't special enough for the pair, Turner, a 27-year-old right-hander, also rolled his way to the top of the leaderboard in Regular All-Events with a 2,028 total at the National Bowling Stadium.
The 1,350 total by Turner (257-246-217 for a 720 series) and Foertsch (242-188-200 for 630) bested Timothy Mayer of Chesterfield, Michigan, and Michael Magolan of Sterling Heights, Michigan, who previously held the lead with 1,277.
Turner rolled a 691 series in team and finished with a singles set of 617 to also become the first competitor at the 2023 USBC Open Championships to surpass the 2,000 mark in all-events. His score passed the previous lead of 1,980 by Mathew Jones of Phoenix.
Foertsch and Turner were competing together for the third time as doubles partners at the Open Championships. While they may be young in their tournament career, they are experienced as best friends on and off the lanes.
"We bowled college together," Turner said. "We were roommates. Billy was the best man at my wedding, and his wife was the maid of honor."
Talking about how special it is to be leading doubles together at the 119th edition of the Open Championships with his best friend, Foertsch shared more on their bond.
"We're best friends," said Foertsch, a 27-year-old right-hander. "We live next to each other. Our wives are best friends. We do everything together. It means the world to me that we got to share this together."
Foertsch and Turner bowled together in college for two years at the University of Wisconsin-Whitewater. It also is where they met their wives (Taylor Foertsch and Amanda Turner), who will bowl doubles together at the Open Championships in April.
"They are better than we are," said Foertsch, who had 667 in singles and 567 in team for an all-events score of 1,864.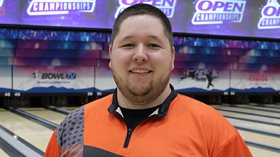 Turner has improved his all-events total in each of his appearances at the Open Championships, and he walked away from his trip this year trying to find the words to sum up his experience.
"It's surreal," Turner said. "I'm speechless to be honest. It's an honor to be out here. To put up a number like that is awesome."
Now, the two will sit back and hope they remain on top until the tournament concludes July 24. That gives them plenty of time to watch the leaderboard to see if their score holds up.
One might say they found the pot of gold, at least for now, at the NBS.
"I will look four times a day," Foertsch said. "When I wake up, after lunch, after dinner and before bed."
The 2023 Open Championships kicked off March 4 and will run for 143 consecutive days as more than 9,700 five-player teams and nearly 50,000 bowlers make their way to compete in The Biggest Little City in the World.
Regular Doubles features bowlers with combined entering averages of 351 and above. The Regular Division includes competitors with entering averages of 176 and above.