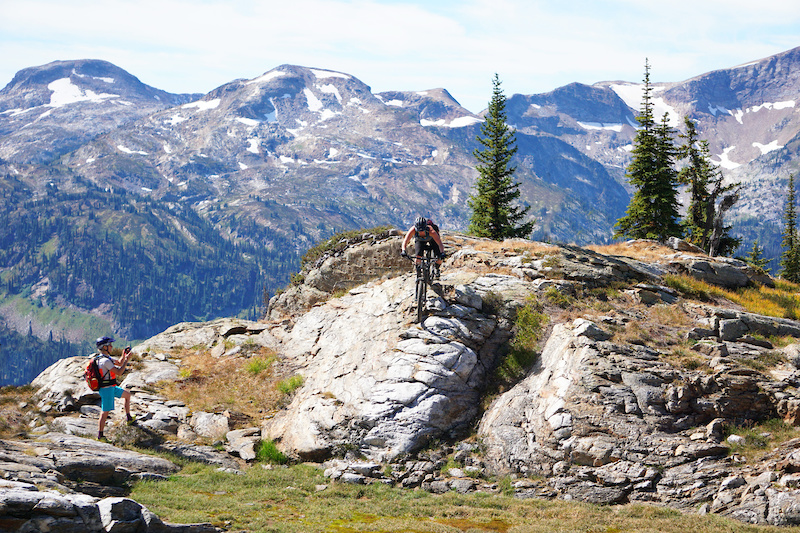 Winter is here in the PNW, but it's never too early to start dreaming about next summer's adventures! What better way to stay motivated this winter than to sign up for a sweet summer adventure. These ladies-only trips are designed to improve your skills and increase confidence — all with awesome female friends and coaches. It's adventure without the testosterone. And, all about fun!
Sweet Skills is based out of Pemberton, BC and has offered mountain bike coaching since 2006. In 2015, Sweet Skills partnered with Tyax Adventures to offer a series of ladies-only backcountry mountain bike camps. In talking with Emily Slaco, guide & coach for Tyax Adventures & Sweet Skills, she notes the first ladies-only backcountry camp was designed to "provide women with a way to build confidence in the backcountry". Emily added, "Our aim isn't to say, 'we only want to ride with other women', the aim is just to create a fun and supportive environment where we can all learn, hone our skills and therefore gain the confidence to be able to get out there and be comfortable joining any group of mountain bikers on an adventure".
Given the popularity of last year's camps at
Sol Mountain Lodge
in the Monashees, these summer camps will sell out quick. If a trip to
Retallack Lodge
has been on your bucket list, then we've got you covered! Looking to travel to a whole new zone, we'll take you North to the gorgeous rugged Yukon with
Boréale Biking
.
Check out the full list of camp offerings and start your Christmas list early!
Retallack
NEW! July 26 – 29 Ladies-Only Shred Sessions at Retallack
Are you a gravity junky? If so, you'll LOVE it at Retallack! Jumps, berms and natural features line the custom-built trails flowing from scenic Kootenay mountain alpine to valley bottom. We'll let gravity feed us down through historic mining sites, alpine wildflowers, and fantastic trails. To maximize our fun, we'll be swept up in the shuttle van and zipped straight back up to the top, a wicked way to hone those downhill skills and have a ripping good time. The cherry on top for this trip: a heli-drop at the peak with 6000ft of epic singletrack to shred! After all that descending, we'll enjoy the gorgeous lodge with a soak in the hot tub, a massage or relaxation by the babbling brook with a cool drink. Includes: 3 full days of riding, 3 nights at Retallack, unlimited shuttle assisted riding and coaching, 1 heli-drop, and all gourmet meals. This camp is aimed at strong intermediate riders – you don't have to arrive an expert, but you sure might leave as one with help from our Sweet Skills coaches!
Yukon
NEW! July 12 – 16 Midnight Sun Women's Mountain Bike Retreat
Sweet Skills joins forces with Boréale Biking for this inaugural Yukon mountain bike retreat. Carcross and Whitehorse boast a world-class trail network that's been little known until now. Trails range from flowy singletrack to stunning alpine descents and include super fun rock rolls and technical features that you'll want to session with our Sweet Skills Coaches. Daily stretch sessions with Tera Meade training will keep us limber and the gorgeous Boreal lodge will make sure we're well fed to maximize our adventure. Imagine all of this, plus incredible views in every direction. And if you're open to the full Yukon experience, you'll stay up with the midnight sun!
Chilcotins
NEW! Sept 21-23 Fall Bike & Bend Retreat at Tyax Resort
Spend 3 days enjoying the beautiful fall colours of the South Chilcotin Mountains by bike while relaxing in style at the luxurious Tyax Wilderness Resort & Spa. Each day will feature a different riding adventure showcasing the best of the area including a flight into the heart of the South Chilcotin Mountains. To compliment our riding adventures, we will enjoy daily yoga sessions, the use of The Spa facilities and gourmet meals at Tyax Resort.
July 22-24 Explorer Backcountry Camp
Have you always wanted to check out the Chilcotin Mountains and challenge yourself on an adventure style ride? Then this camp is for you! Enjoy the supportive camaraderie of other women along with great coaches & guides to introduce you to this backcountry paradise. We'll start with 1 night at Tyax Resort before flying into the heart of the South Chilcotins. Here we'll ride amazing singletrack and overnight in the backcountry at Spruce Lake camp, maybe even take a dip in the beautiful lake and enjoy a peaceful night in the mountains. This trip will be the highlight of your summer!
August 23-27 Ultimate Adventure Camp
Are you ready to push your limits and experience the true beauty of the South Chilcotin wilderness? We'll start our riding adventure with a floatplane flight into the depths of the South Chilcotin mountains. From here we'll spend 3 days riding sweet singletrack, climbing alpine passes, snacking by alpine lakes and ripping fun flowy descents. Our experienced coaches and guides are here to help create the best experience for you! A night at Tyax Resort, before and after your 2 nights in the backcountry, really makes this trip the ultimate adventure.
Sol Mountain
Aug 2 – 4 & Aug 4 – 6 Sol Mountain Retreats
Back by popular demand! Both camps sold out last year, and we're excited to get back up to the beautiful Monashee Mountains and cozy Sol Mountain Lodge. Imagine waking up enjoying a morning coffee and alpine view before a limbering yoga class. Once we're limber we'll hit the alpine trails right out the front door, stopping for a swim along the way. You don't want to miss this fun-filled trip of mountain bike skills, alpine riding, yoga, delicious food, alpine relaxation and great company!
---
MENTIONS:
@slacka
---