Last year's first-ever IDEALAB focused on people-powered philanthropy, and featured four funding organizations and their grantees: Kresge Foundation and Ponyride; Headwaters Foundation for Justice and The Giving Project; New Belgium Family Foundation and RE:Vision; and the Haile Foundation and CoSign.
Speakers shed light on how their relationships with grantmakers and nonprofits from around the country have helped transform the projects and organizations they support.
This year, IDEALAB is structured a bit differently. Leaders from three Midwest organizations will showcase their "movements" on Dec. 4. This year's event will focus on campaigns and projects — big or small — that truly make a difference, and how anyone can start, fuel and participate in a movement.
Soccer as a successful community-organizing tool
While studying and working abroad, Sean Mann fell in love with soccer and the international culture surrounding the sport. His diverse, hands-on, legislative background spans 12 years and includes a stretch during the Great Recession working for Association of Cities, an experience that taught him how to do more with less.
In 2005, Mann had the idea for a community organization project, and decided that soccer was the perfect community-organizing tool.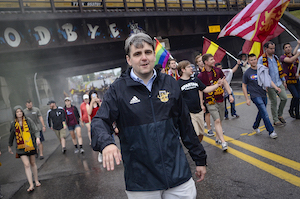 IDEALAB presenter Sean Mann uses soccer as a means of community organizing."This was a time in Detroit where there was a huge branding issue," says Mann. "People knew the neighborhoods in NYC, but not the ones in their own backyard."
With a budget of just $1,300 and goal posts made from PVC pipe that broke every game, Mann organized people from 11 neighborhoods to participate in the Detroit City Futbol League. The league recently finished its eighth season and had over 1,000 participants from 34 Detroit neighborhoods.
Mann's work didn't stop there. He and a few colleagues each pitched in $4,000 to start the city's first semi-pro soccer team, Detroit City FC, which just finished its sixth season and plays in front of crowds of around 5,500 people.
Detroit City FC recently moved to Keyworth Stadium, which was built in 1936. It had been Franklin Roosevelt's first Works Progress Administration project in Michigan; FDR was on hand for the ribbon cutting, and it was the last stop on JFK's campaign tour. But before the team moved in, the building itself was vacant and owned by a local school district. The field was still open, and after school, about 100 kids would gather to play soccer. Mann saw Keyworth's potential and knew he wanted to tackle its renovation.
The organization couldn't get traditional loans to fund the project, but with Michigan's updated law regarding uncredited investors, Detroit City FC launched a grassroots fundraising campaign. The organization pledged to pay out a percentage of its revenue to its investors until all loans were paid in full.
"How you approach creating organizations and sell the story is how you get buy-in and vested interest from consumers and advocates," says Mann, who believes a sports team isn't just about consumerism but ownership. Because of this campaign, fans know they've helped with Detroit City FC's progress in a tangible way.
"Our fans have become true supports and share in FC's success," he explains.
As part of the fundraising campaign, fans could invest anywhere from $250-50,000, and in about 90 days, 500 investors fully funded the $750,000 project. The organization is ahead of schedule to pay investors back.
Creating a "springboard" for other artists, cities
"I've always been an artist and had an interest in work that is challenging people and making life more interesting," says another IDEALAB presenter. Carl Atiya Swanson is associate director of Minneapolis-based Springboard for the Arts. "I've always asked myself the question: 'How am I influencing this community and moving this community forward?'"
Carl Atiya Swanson, associate director (Provided: Chris McDuffie Photography)
Swanson received his BA in Studio Art from the University of Southern California, and after moving back to the Twin Cities about 10 years ago, he received his MBA from the University of St. Thomas Opus College of Business. He's worked in various media including, memberships at the Minneapolis Institute of the Arts and freelance arts writing.
He came to Springboard through visual art by taking classes and then stepping into a larger role with the organization. As Springboard's associate director, Swanson manages the organization's programs and leads development and partnerships.
"We want to see ourselves engaged with and supporting others who believe in local arts and cultures," says Swanson. "There are more support systems, ideas and resources in local arts and culture in the same way that local food has taken off as a movement. It's an important movement in the 21st century that expresses local identity and defines what a community is."
He oversees Springboard's Creative Exchange program, which provides toolkits and other resources for artists. But the toolkits aren't just for artists. They're for community development work and can be used by artists, nonprofits, community developers and the government.
Any organization interested in utilizing the toolkits just needs to meet three criteria: the idea must be practical, replicable and adaptable.
For example, Irrigate was a three-year creative placemaking initiative designed in response to the disruption of a major construction project in St. Paul. It was created in partnership with the City of Saint Paul and Twin Cities Local Initiatives Support Corporation, and funded by ArtPlace. Irrigate trained artists as community organizers and leaders, facilitated partnerships between artists and businesses and funded small-scale arts projects that created surprise, joy and delight.
That program has been used by other business organizations to engage artists in new ways. Swanson describes it as a decentralized movement not necessarily driven by Springboard but supported by it, and driven by other local leaders.
"A movement is built person-to-person, organization-to-organization," Swanson says. "When people see their own ideas reflected back to them, it sparks something."
Cleveland Neighborhood Promise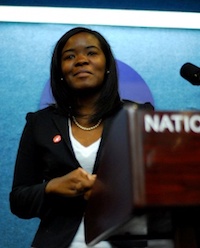 Evelyn Burnett, VP of economic opportunity (Provided)Evelyn Burnett and Mordecai Cargill will join IDEALAB as representatives of Cleveland Neighborhood Progress, an intermediary with a mission of fostering communities of choice and opportunity throughout the city.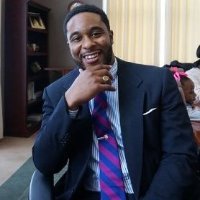 Mordecai Cargill, director of strategy, research and impact (Provided)
Burnett coordinates neighborhood progress and human development efforts to integrate with a regional opportunity agenda. Cargill provides oversight and analysis for the implementation of the CNP 2017-2021 Strategic Plan, and focuses primarily on three key areas: program design and evaluation, research and thought leadership and partnership and resource development.
In 2016, a group of local civic leaders and community stakeholders attended half-day "Groundwater" and two-day Phase I trainings, led by the Racial Equity Institute from Greensboro, NC. These introductions to historical, institutional and systemic racism challenged assumptions and revealed the impact of racial inequality in the country's most marginalized populations.
Then in January, CNP and engaged partners embarked on a learning journey to increase their shared understanding of racial inequality, to foster productive dialogue among community stakeholders and civic leaders and to determine strategies.
IDEALAB will be held from 9 a.m. to 6 p.m. on Dec. 4 at Memorial Hall. Tickets are $50 for an all-inclusive day, and are available here.
IDEALAB: Movement Makers is presented by The Carol Ann and Ralph V. Haile, Jr./U.S. Bank Foundation, People's Liberty, Issue Media Group and Soapbox Media with support from Procter & Gamble and media sponsor Movers & Makers.