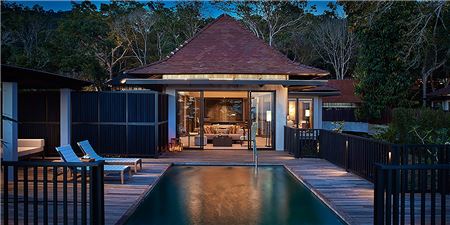 Marriott opened nearly 80 hotels in Asia-Pacific last year, including the Ritz-Carlton Langkawi in Malaysia. Photo: Marriott
Marriott International has kicked off a year of growth in Asia with the opening of Delta Hotels Shanghai Baoshan in China this week. The hotel is the first Asian property from Delta Hotels, Marriott's upscale North American brand.
With a Georgian-inspired façade, the hotel sits in the city's waterfront district, at the mouth of the Huangpu River. Each of the 339 guestrooms and suites boast high-ceilings. Dining options at the hotel ranges from casual American style at the Lotus All Day Dining Restaurant to grilled steaks at The Kitchen to sophisticated fine dining at the Cantonese eatery TRU, which specializes in authentic Cantonese cuisine.
The move, along with other announcements from Marriott, including the openings of new luxury hotels, further demonstrates that the company is looking to capitalize on the growing demand from Chinese travelers. The China National Tourism Administration estimates China's travelers will take 700 million trips over the next five years. As incomes rise, the country's middle class is looking for higher quality products and travel experiences – making it a key market for upscale and upper-upscale brands.
"This is an exciting year for Marriott International in the Asia Pacific region as we deliver innovative, new ways to cater to today's and tomorrow's travelers," said Marriott chief sales and marketing officer for Asia Pacific Peggy Fang.
More expansion in the region
On the other side of the country, luxury brand St. Regis Hotels & Resorts will make its inaugural entry in Hong Kong in 2019 with a 25-story St. Regis Hong Kong located in the heart of historic Wan Chai. The property will offer 129 guest suites, many of which will offer views across Victoria Harbor and Kowloon Bay. Luxury amenities range from a heated swimming pool to an open air terrace next to a lobby lounge to the brand's signature butler service. Two restaurants will offer Chinese and French cuisine.
Ian Schrager and Marriott's lifestyle concept EDITION will open in Bangkok and Shanghai, with 154 guestrooms and 145 guestrooms, respectively.  
In addition to opening high-end hotels in bustling cities, Marriott will expand its Asia Pacific resort portfolio. Koh Samui will debut as the Ritz-Carlton's first resort in Thailand, while the brand will open its first property in China's scenic Jiuzhaigou Valley with the its first all-villa resort. The Ritz-Carlton Jiuzhaigou will open 20 minutes from the majestic Jiuzhaigou Valley National Park, a designated UNESCO Heritage Site.
JW Marriott will also make premieres this year in the Maldives and Jaipur, India.
Marriott just capped off a progressive year in 2017 in Asia Pacific, opening nearly 80 hotels bringing 19,000 new rooms to the region, including the Ritz-Carlton Langkawi in Malaysia the W Marriott Phu Quoc Emerald Bay in Vietnam.